What attorneys and companies need to know about the increasing interplay between these critical areas of the law.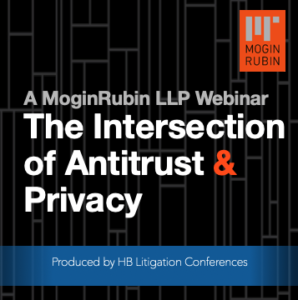 Highly publicized cases and investigations in the U.S. and Europe of big technology, e-commerce, and social media companies demonstrate how anti-competition laws are being used to scrutinize and challenge not only how these corporations conduct themselves in the marketplace, but the very core of their colossal success: the mass collection and utilization of user data.
Are the privacy and antitrust worlds beginning to cross over? Or do they simply run parallel while addressing entirely different types of conduct? Whatever the answer, data is the raw material that drives the likes of Google, Facebook, Apple and Amazon, so how it is handled is a critical question when counseling clients on mergers and acquisitions. Learn more from these experienced professionals.
Moderator
Daniel J.  Mogin | Managing Partner, MoginRubin LLP
Speakers
Jennifer M. Oliver, CIPP/US | Partner, MoginRubin LLP
Thomas N. Dahdouh | Director, Western Region, Federal Trade Commission
Franklin M. Rubinstein | Partner, Wilson Sonsini Goodrich & Rosati
Randi W. Singer, CIPP/US, CIPT | Partner, Weil, Gotshal & Manges
Contributor
Dina Srinivasan | Independent Researcher & Author of The Antitrust Case Against Facebook
Dina was unable to present but we thank her for her content contributions. 
Available as part of your subscription to
The Thomson Reuters West LegalEdcenter®.

Agenda
Who should regulate privacy violations in the U.S.?
Which antitrust issues implicate privacy concerns?
What role does machine learning play on the competitive landscape?
What is big data really? How is it different from "data"?
What are the elements of effective merger reviews?
What are the appropriate remedies?
What are "notice-and-choice" versus "harms-based" approaches?
And more
Don't subscribe to the West LegalEdcenter?
This webinar is still available directly from HB. Take it now!
Questions for speakers
Questions@LitigationConferences.com
CLE questions
CLE@LitigationConferences.com